My favourite article of the week was this beautifully written personal essay in the New York Times. It reminded me of my own grandmothers, who I have found myself thinking so much about since the UK went into lockdown nearly two weeks ago. When I say grandmothers, I am actually referring to both my grans and my great auntie Joyce who was like a third gran to me. I have actually been thinking of writing about them for a while in this newsletter because I have been thinking about what influences us to be the way we are.
I've always been independent and comfortable spending time alone but where does that come from? Do some people find it easier than others because of how they were brought up? It's a conversation I've had with my sister, who is very similar. The conversation made me wonder how influenced we are by what we see when we're kids. In our family, we were surrounded by lots of strong independent women so I guess it's no surprised that some of the rubbed off.
I'll start with my Irish gran (pictured below as a young woman). I think when we were little we were meant to call her granny and the other one gran but in the end we would always refer to them by the thing that defined them the most, which was the fact one, my maternal grandmother, was from Dublin, Ireland and the other, my paternal grandmother, was from the wilds of North Wales (pictured as I remember in the picture below). We still refer to them this way, even though they both have been dead for 12 years (they died within six weeks of each other, but that's a story for another time).
I don't remember ever questioning why my Irish gran lived alone. On her mantlepiece, there was a picture from her wedding day but I also knew her husband - my grandfather - died when I was two. I later learned they had actually been separated for many years before that. Much later I learned that my granddad had been sectioned and diagnosed with schizophrenia when my mum was a little girl. After being released from what was essentially an asylum back then, he had gone to live with his sister and not his own family. I still don't know the ins and outs of this because she died before I found out (a fact that still irks me). What I do know is my gran would have suffered an awful lot of stigma for being a single mother in the 70s, exacerbated by the fact she was a devoted Roman Catholic. The couple had never had much money, but without my granddad, she was also plunged into poverty. My dad always says that it says an awful lot about the kind of woman my gran was that neither of her children went off the rails and both have "turned out great," in his words.
We were often looked after by our Irish gran growing up, and she definitely had a big influence on us and how we cope with what life throws at us. She never remarried, and as far as I know didn't have another relationship after my grandfather so she was alone for several decades and while I know she was comfortable on her own, she was also always incredibly sociable. We used to joke that she was the socialite of churches because she knew everyone. She was always getting involved in everything and volunteering her time. Even after her last dog died, she would still go for daily walks as long as she could, stopping to point out flowers to us kids and take cuttings for her own beautiful garden. She was also the person to introduce me to yoga at aged 11. A dancer in the theatre when she was younger, my gran could still jump into the splits. The last time I saw her do it, she was 81.
My Welsh gran was actually never single, but nevertheless she was still incredibly independent and strong-minded. Unlike other people's grannies, I never remember her wearing a dress. She was always in slacks. Instead of sitting and knitting, she was the one to climb up huge ladders to clean windows and fix things. She was also the most stubborn person I've ever met and continued to do things like this into her 80s, despite the pleas from her children. It would never have occurred to her to hire someone to do it.
Like Kate's grandmother in the New York Times article, she spent a lot of time preserving things. I remember going to her outhouse and seeing rows of lemon curd, jam and marmalade. She embodied the phrase 'waste not, want not' and so kept everything and always found a way to reuse or repurpose it. She was also very ambitious for her grandchildren, especially the girls, wanting us all to have successful careers despite the fact that she had gone from being a farm hand as a teenager to being a housewife. She was very much the matriarch of the family. She would probably give me short shrift if I ever had dared to suggest it, but looking back and I think she was actually a bit of a feminist icon to me.
My great auntie Joyce is the sister that my granddad went to live with. After he died, she took it upon herself to make sure our side of the family were always included even though the link was broken. She was also on her own for several decades after her husband died in the early 90s, but never seemed to get down about it. My great auntie Joyce taught me the value of looking after your family and friends and about the importance of bringing everyone together. She was also the one-woman newswire for our family. She would write to everyone and get their news and then disseminate each person's updates to everyone else through her letters. I called her my greatest ever penpal. She wrote to be in every country I ever lived. She was thrilled I was into travelling because out of the three women, it was my great auntie Joyce who liked to travel the most herself and who always told me to go and see the world. She was generous, funny and the kindest woman I ever met. She also loved to party, something I have definitely inherited.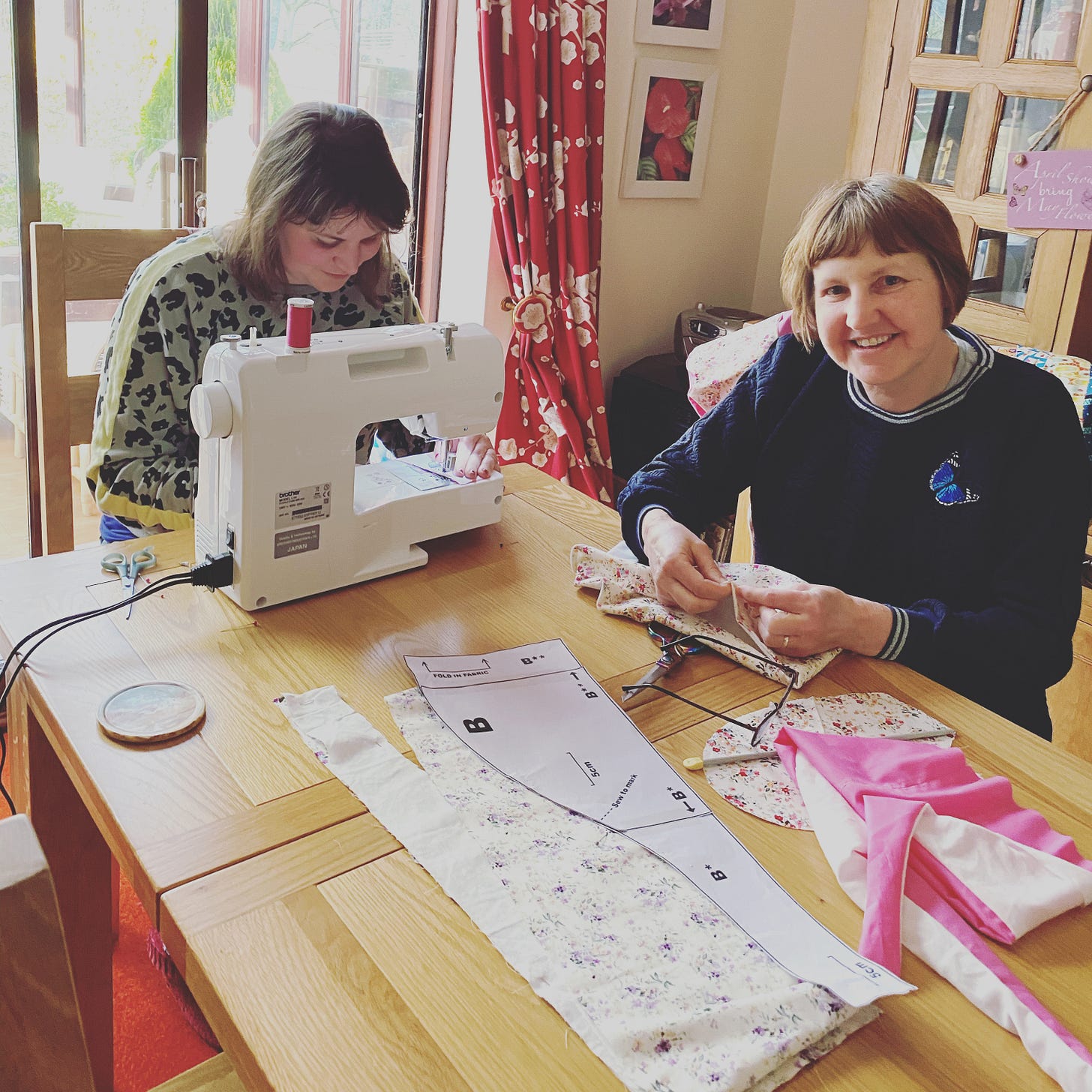 If they had still been alive now, I think all of them would have handled the situation differently. My great auntie Joyce would have hated not being able to see her family and friends but I know she would have been the best at keeping in touch with everyone and keeping everyone's spirits up. There is no doubt in my mind that my Welsh gran would have driven us to despair with worry by trying to still go to the shop. She hated accepting help so being stuck at home having to rely on us to deliver things would have been difficult for her, I think. But still, I think she would have coped by making herself useful in some way. My Irish gran would have struggled not going to church but I'm fairly certain she would have been quite happy to potter in her garden, bake soda bread and get involved in some kind of volunteer effort from home. In fact I thought of her yesterday as my mum and I have got involved in sewing scrubs, caps and uniform wash bags for the NHS as part of a huge volunteer effort (see picture above). I know my Irish gran would have loved it.
Even so, I am almost glad they are not still alive to go through this. I know I would have been beside myself with worry and I'm thinking of any of you who are concerned about your elderly parents or grandparents.
I'm sure there are also readers who have lost someone special in the last few weeks and so I just want to take this opportunity to send you all my love.
Stay safe and stay home,
Nicola
Twitter: @TheSingleSupp | Instagram: @TheSingleSupplement
What caught my attention
Elizabeth Gilbert: It's OK to feel overwhelmed. Here's what to do next
I am one of Elizabeth Gilbert's biggest fans. I read Eat Pray Love when I was going through my worst heartbreak and then took myself off to find more about her. Her words of advice for how to be a writer became my manifesto as I sought to make the switch from teaching English to journalism (and still influences me today). I will stop myself before this just becomes a newsletter about how much Elizabeth Gilbert has helped changed my life and just say, whatever you think of her, go watch this TED interview about dealing with this crisis and how resilient humans are. I have so much to say on this I might do some instagram videos.
How to adapt if you've moved in with your parents due to coronavirus
Every single word in the first two paragraphs in this article by Rachel Thompson could easily have been written by me and was my exact experience of the week before I made the decision to go and stay with my parents right down to worrying about my mental health. Rachel has written a great guide to help if you too decided to ride out lockdown with your parents. One thing I did this week was sort myself out with a designated work space, as Rachel suggests, and it has made all the difference.
What it's like to have coronavirus when you live alone
This might sound like a scary thing for all those who are by themselves during this pandemic but ultimately it feels quite hopeful about the goodness of people in Almara Abgarian's life. In conclusion, she says: "Most importantly, this has reminded me of the value of kindness and community. Many of us are scared of what's to come – and the lack of leadership from government over the past two weeks hasn't exactly helped. So until things turn around, it's up to us to help each other."
The lowdown
One of the awesome members of the Facebook group, Payal Patel, has put together this fab playlist called Single And Fabulous. She did it with the help of the other members and if you fancy a kitchen disco today, I highly recommend pressing play on it!

I'm excited to say that Francesca Specter, founder of Alonement, will be joining me on Instagram Live at 5pm GMT this evening (Sunday 5th April). I hope you'll join us!

I'm so sorry that last week's Zoom call didn't work out. The meeting was scheduled for the wrong time because Zoom hadn't realised the clocks had changed in the UK and so the link I sent out was wrong. I'm going to try again at the same time and day (8pm GMT on Tuesday 7th April). Here is the new link. Looking forward to chatting!

One of my best mates has been doing lovely yoga classes over Zoom so if you fancy practising yoga with me, I usually do the Thursday one (after the 8pm #ClapOurCarers in the UK). It's very gentle and perfect for winding down before bed. The classes are by donation so you pay what you can if you can.

My other favourite thing that has been launched thanks to this awful situation is my friend Emma's Instagram Live cook-a-longs called Lockdown Lunches. I don't actually cook at the same time, I just watch and laugh and feel inspired. It's just the tonic to all the anxiety at the moment.

It is officially the six month anniversary of this newsletter and I was planning on launching something exciting today but I've ended up having a really hectic week so I'm going to save it until I can do it properly. In the meantime, I'll just celebrate this milestone on my own. It will look a bit like this.
Heroine of the week
In keeping with this week's theme, my heroine this week is 99-year-old Rita Reynolds is thought to be the oldest Brit to survive coronavirus. Apparently her diet mainly consists of marmalade sandwiches and biscuits and it's for this reason she is my heroine because she sounds like a badass. When you read this I will probably be tucking into marmalade on toast, inspired by Rita.
About me
For those who don't know, I'm Nicola Slawson, a freelance journalist who lives in London, UK. I don't get paid to do this newsletter (maybe one day I will), but if you enjoyed it and would like to buy me a coffee, you can.
Did someone forward The Single Supplement to you? Subscribe here.